🌼 简介 Description 🌼
🔺 超弹力 Super Stretchable
🔻 有里布 With lining
🔺 侧边拉链 Side zipper
🔻 Material: 弹力蕾丝面料 Stretchable Lace
🌈 白色 / 粉色 / 紫色
🏷 #RM49
Size:
S - Bust 78-86cm / Length 40cm
M - Bust 82-92cm / Length 41cm
L - Bust 88-100cm / Length 42cm
注意注意⚠️
提醒:我们的系统将会自动免邮FREE SHIPPING(如果下单新品满RM150/200)
那么出于清货款我们一律不包邮,所以宝贝们如果在下单清货款式时,系统自动帮你们免邮了,请宝贝们点击以下链接并照着你们的地区自行补上邮费。
https://www.dressyboutique.com/products/postage-salesitem
📮 我们的邮费价格:
1⃣️ 西马RM8 2⃣️ 东马RM12
非常谢谢你们 !
NOTICE⚠️
Reminder: Our system will offer FREE SHIPPING automatically for the order of new items that purchase a total of RM150/200 & above.
Since we do not offer free shipping for sales/promotion items, so if our system offers free shipping when the buyer place order of sales items, kindly click the link below to top up the postage according to your area.
https://www.dressyboutique.com/products/postage-salesitem
📮 Our shipping rate:
1⃣️ WM RM8 2⃣️ EM RM12
Thank you very much.
SIZE GUIDE
我们的测量单位是厘米(cm),所有的尺寸都是以平量方式来进行局部测量(不是上身测量)
All measurements stated are in cm; they are taken across an apparel (and not the circumference) at respective areas.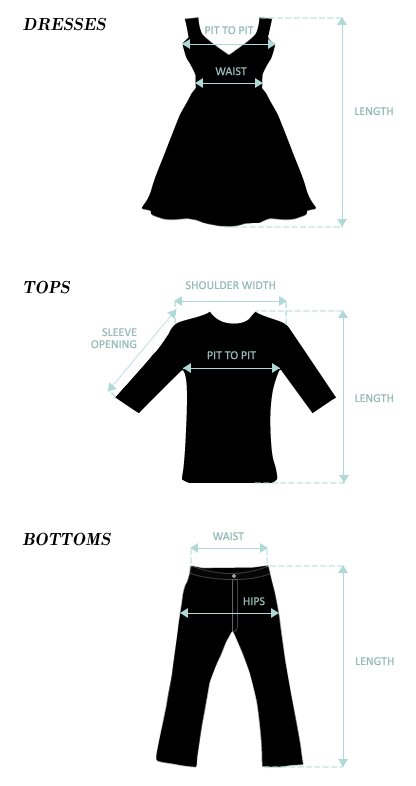 备注 Remarks: 手工测量 Manual Measurement
单位 Unit: CM
温馨提示 Gentle Reminder :
1. 因各人身材比例不同,以上尺码建议仅供参考:因布料款式伸缩性不同和是手工测量,会存在1-2cm误差,敬请见谅! As everybody has a different body shape, the size guide above is for references only. There might be 1-2cm differences in the measurements given due to the different stretchable quality of the materials and the way measurement is taken.

2. 由于光线,显示器等原因,请允许图案颜色可能与实物有细微差别,这不算为瑕疵,请以实物为准! Please allow 20-30% discrepancy in the product color due to lighting and monitor resolution (actual may appear darker/brighter). In such cases, the variance may not be considered as a defect.
Customer comments
| Author/Date | Rating | Comment |
| --- | --- | --- |